Neovide Cheeseburger
Mar 14,2023 | The Space
By cooking the burger patties at a precise temperature of 57℃/134.6℉, you'll achieve a perfect consistency that's tender and juicy. Neovide allows you to sear and toast in the same pot, making it an all-in-one solution for a delicious cheeseburger. Top it off with your favorite cheese, veggies, and condiments, and savor every bite!
Mode: NeoVide
Cooking temp: 57°C/134.6°F
Cooking time: ≈ 60 min
Difficulty: Moderate
INGREDIENTS FOR 2 PORTIONS
For the cheeseburger:
2 burger patties
2 burger buns
4 cheddar cheese slices
4 romaine lettuce leaves
Salt to taste
Black pepper to taste
For the special mayonnaise:
4 tbsp mayonnaise
1 tbsp onion, chopped
1 tsp onion powder
½ tsp garlic powder
½ tsp paprika powder
½ tsp dried dill
1 tsp Dijon mustard
1 tsp Cider vinegar
DIRECTIONS
For the special mayonnaise:
1. In a small mixing bowl, combine all the ingredients and set the sauce aside.
For the cheeseburger:
1. Season the patties with salt and pepper.
2. Place the burger patties into the Neovide cooker and insert the probe thermometer into the center of one of them. Set the Neovide cooker to 57ºC and press the start button. It will take about 60 minutes for the patties to reach the internal temperature.
3. When the patties are ready remove the patties from the Neovide cooker and switch to mild sear mode at 210ºC.
4. Sear the patties on both sides and add the cheese on top of them in the last 30 seconds.
5. Toast the hamburger buns if desired.
Assemble your burgers by placing the patties on the bottom bun and then adding the lettuce and the special mayonnaise.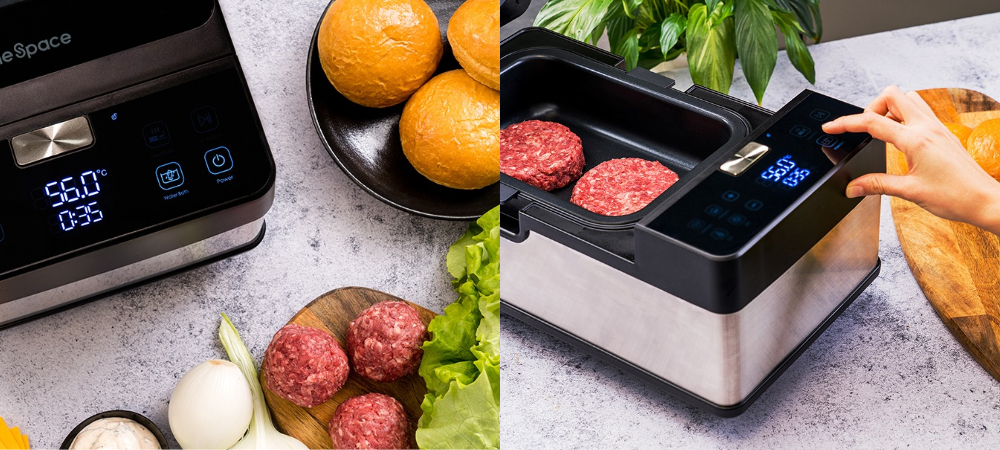 TIPS
Some great toppings for this cheeseburger could be bacon, avocado, jalapenos, sautéed mushrooms, caramelized onions, or fried eggs.
Comment