Cod Bruschetta with Lemon Mayo & Crunchy Vegetables
May 09,2023 | The Space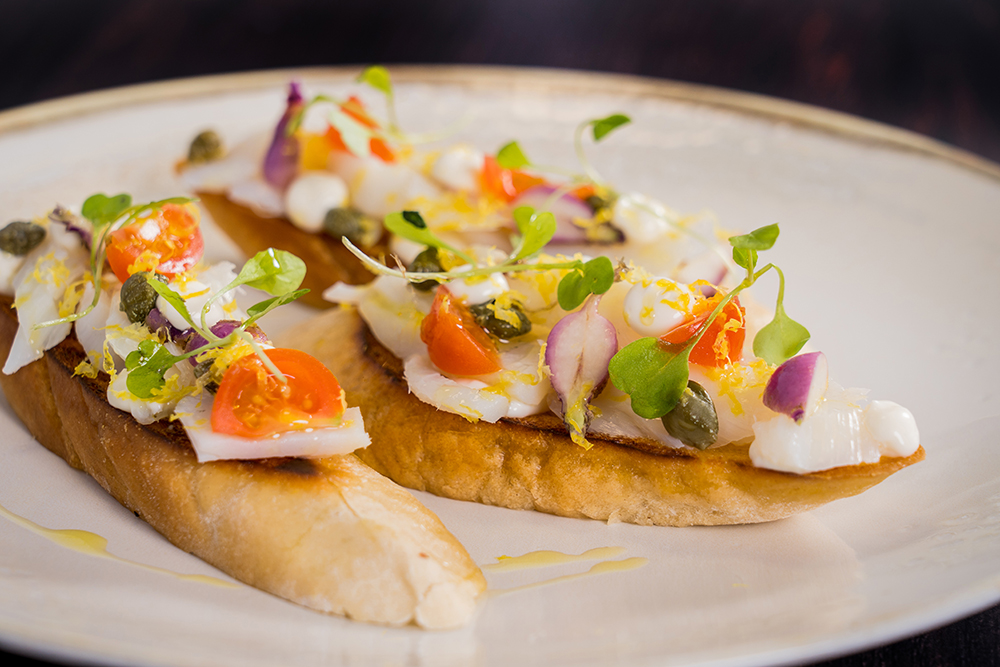 Say hello to our Cod Bruschetta with Lemon Mayo & Crunchy Vegetables! The bruschetta stars tender cod confit, cooked at 52℃ (125.6℉) using our innovative bagless sous vide cooker. This low-temperature cooking method ensures that the fish retains its natural moisture and subtle flavors, while also enhancing its texture and tenderness. The zesty lemon mayo adds a tangy kick, while the crisp veggies bring a refreshing crunch. Perfect for any gathering, this dish is a flavor and texture sensation.
Mode: NeoVide
Cooking temp: 52℃ (125.6℉)
Cooking time: ≈ 60 mins
Difficulty: Moderate
INGREDIENTS FOR 2 PORTIONS
For the cod confit:
200 g desalted cod fillet
Extra virgin olive oil
For the mayonnaise:
3 tbsp mayonnaise
1 tsp lemon juice
1 pinch of lemon zest
For the bruschetta:
6-8 baguette toasted slices
1 tbsp brined capers
6 baby turnips or radishes
8 cherry tomatoes
A handful of mustard cress
Extra virgin olive oil to taste
Black pepper to taste
Salt to taste
DIRECTIONS
For the cod confit:
1. Place the cod into the Neovide cooker and choose the Neovide function. Insert the probe thermometer into the center of the con loin and set the cooker to 52ºC. It will take around 60 minutes for the cod to reach the internal temperature.
2. Once the cod is ready, the Neovide cooker will keep it warm.
For the mayonnaise:
1. In a mixing bowl, combine the mayonnaise, lemon juice, and lemon zest. Set aside.
For the bruschetta:
1. Drizzle some olive oil over the toasted bread, and season with salt and pepper.
2. Shred the cod and place it on top of the toasted bread. Add some lemon mayonnaise to each bruschetta and some capers, no more than four or five to each toast.
3. After that, cut in half the turnips and the cherry tomatoes. Place them on every bruschetta in an aesthetically pleasing way.

Finally, top with some mustard cress and drizzle again with some olive oil.
TIPS:
There are several other citrus mayonnaise options you can try, for example, an orange mayonnaise, made with orange juice and zest, this mayonnaise has a bright and fruity flavor that can go well with this cod bruschetta.
Comment