Five Spice Duck Breast with Pumpkin Puree
Apr 25,2023 | The Space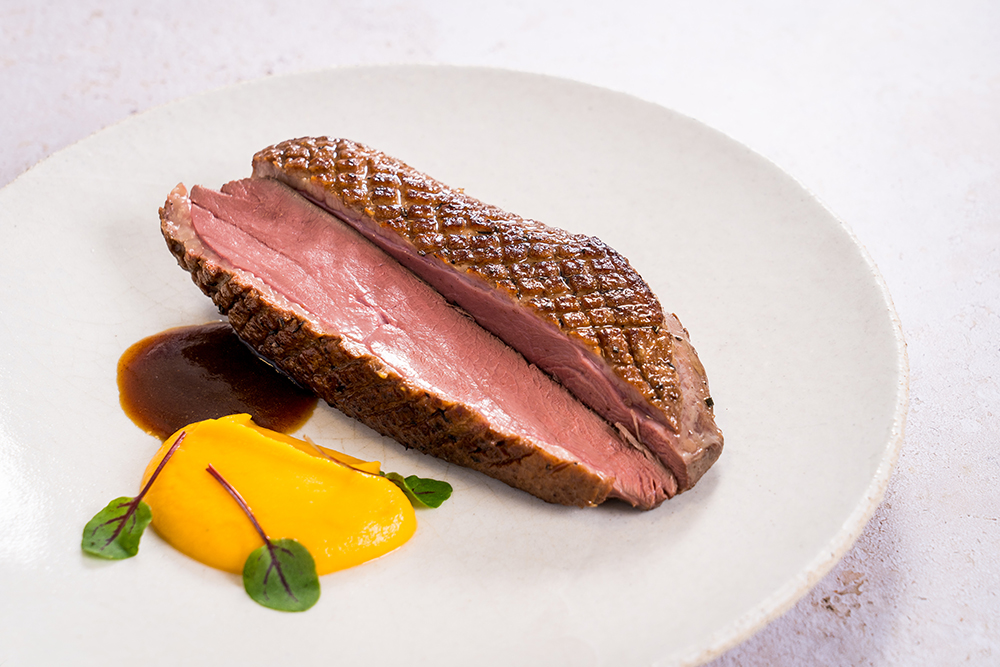 Set your Neovide to 55°C (131°F) and cook the duck breast to perfection, locking in its tenderness and moistness. Paired with a sweet and savory pumpkin puree, this will be a restaurant-quality dish that will impress even the most discerning palates.
Mode: NeoVide
Cooking temp: 55℃ / 131℉
Cooking time: ≈ 45 mins
Difficulty: Challenging
INGREDIENTS FOR 2 PORTIONS
For the duck breast:
1 duck breast (around 400g)
2 tsp five-spice powder
100 ml demi-glace sauce
1 tbsp butter
Salt to taste
For the pumpkin puree:
500 g butternut pumpkin
1 tbsp unsalted butter
Salt to taste
Black pepper to taste
DIRECTIONS
For the duck breast:
1. Score the duck breast skin in a crosshatch pattern, being careful not to cut too deep into the meat.
2. Season it with salt, pepper, and the five-spice powder. Place it skin-side down in the Neovide cooker.
3. Program the marinate function for 15 minutes and press the start button.
4. After that, switch the Neovide cooker to mild sear function at 180ºC. Sear skin-side down for about 8 minutes. Then switch to Neovide function, insert the probe thermometer into the center of the duck breast and program 55ºC degrees internal temperature. It will take about 45 minutes.
5. When the duck has reached the temperature desired, turn again to mild sear function and sear again for 2 minutes at 210ºC both sides.
For the pumpkin pure:
1. Peel the pumpkin and cut it into small cubes.
2. Place the pumpkin cubes in a large pot and cover them with water.
3. Bring the water to a boil and then reduce the heat to low.
4. Simmer the pumpkin cubes for 15-20 minutes, or until they are tender and easily pierced with a fork.
5. Drain the pumpkin cubes and place them in a food processor or blender.
6. Add the butter, salt, and pepper to the pumpkin and puree until smooth.
Serve the sliced duck breast along with the hot demiglace and garnish with the pumpkin puree.
TIPS:
A marinade made with orange juice, soy sauce, garlic, and ginger will work really well with this duck breast. The citrus and soy sauce add a nice sweetness and savoriness to the duck, while the garlic and ginger add depth of flavor.
Comment