Pineapple 75ºC with Rum and Vanilla Ice Cream
Apr 27,2023 | The Space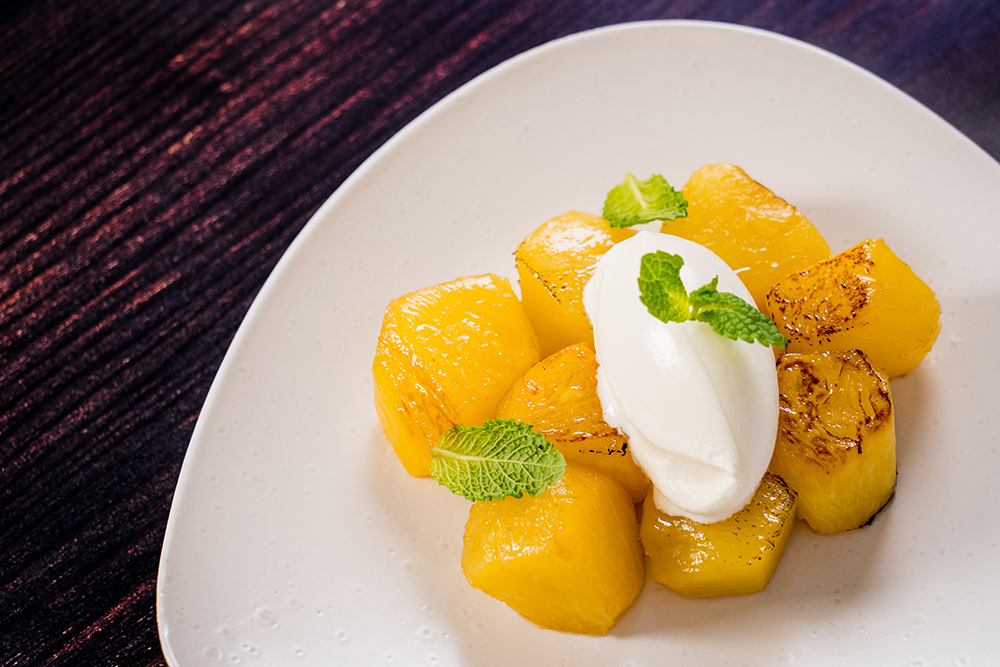 Treat your taste buds to the Tropical Bliss of Pineapple 75ºC with Rum and Vanilla Ice Cream! This delightful dish is not only perfect as a dessert but also makes for a heavenly topping for your pancakes, ice cream, or waffles. The combination of the warm, succulent pineapple and the smooth, cool vanilla ice cream creates a symphony of flavors that will make you feel like you're on a tropical getaway.
Mode: Manual
Cooking temp: 75℃ / 167℉
Cooking time: 30 mins
Difficulty: Easy
INGREDIENTS FOR 2 PORTIONS
For the pineapple:
½ small fresh pineapple
50 ml aged rum
2 tbsp brown sugar
25 g butter
Pinch of cinnamon
1 branch of fresh mint
2 scoops of vanilla ice cream
DIRECTIONS
1. Cut off the green crown and stem end of the pineapple.
2. Stand the pineapple on one end, then slice off the fruit's skin in strips from top to bottom. Cut just deep enough to remove the skin without removing too much of the fruit's flesh.
3. With the peeled pineapple still standing on one end, slice it into four pieces from top to bottom. Then cut the fruit away from the core on each quarter; discard the core.
4. Cut the pineapple into cubes and place it in the Neovide cooker. Choose the water bath program and cook it at 75ºC for 30 minutes along with the rum, sugar, butter, and cinnamon.
5. When the pineapple is ready, switch to mild sear program at 180ºC and simmer until gets a thick syrup.
Finally, serve the pineapple along with the ice cream and some mint leaves.
TIPS:
Make sure to choose a ripe pineapple as they taste sweeter and less acidic. This dish is a great dessert or topping for pancakes, ice cream, or waffles.
Comment