Ribeye Steak With Garlic-Rosemary Butter And Arugula Salad
Apr 18,2023 | The Space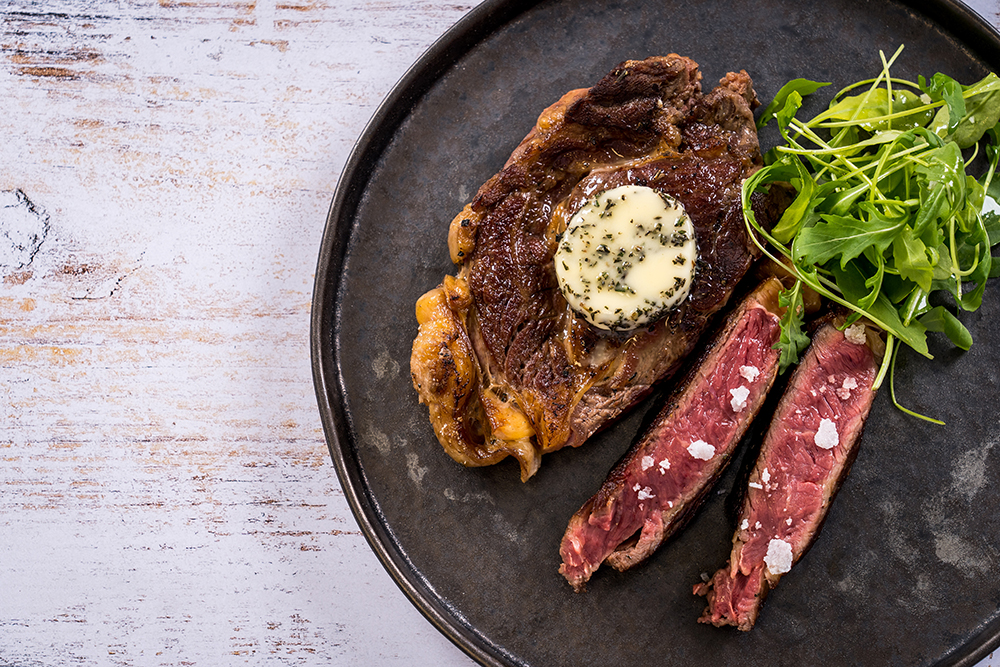 Simply insert the food probe into the center of the ribeye to ensure perfect temperature every time. With Neovide, you can season, sous vide, and sear - all in one amazing device! Pair your perfectly cooked steak with a vibrant arugula salad for a balance of flavors!
Mode: NeoVide
Cooking temp: 55°C / 131°F
Cooking time: 45 mins
Difficulty: Easy
INGREDIENTS FOR 2 PORTIONS
For the butter:
200 g unsalted butter
6 garlic cloves
1 small bunch of rosemary
Salt to taste
For the ribeye steak:
500 g ribeye steak
1 tbsp butter
Salt to taste
Black pepper to taste
For the arugula salad:
60 g Arugula
1 tbsp lemon juice
2 tbsp extra virgin olive oil
Salt to taste
DIRECTIONS
For the butter:
1. Press the garlic cloves through a garlic press into a glass bowl. Then, add the butter and chopped rosemary. Mix them thoroughly.
2. Add a pinch of Kosher salt and taste the mixture. If it needs more salt, add it pinch by pinch until it reaches the desired taste. Store, covered, in the refrigerator.
For the ribeye steak:
1. Season the ribeye steak with salt and pepper.
2. Place the steak into the Neovide cooker and insert the probe thermometer into the center of the meat. Set the Neovide cooker to 55ºC and press the start button. It will take about 45 minutes for the steak to reach the internal temperature.
3. When the steak is ready, remove it from the Neovide cooker and switch to mild sear function at 210ºC. Add the butter and sear it on both sides until golden brown. Remove from the Neovide cooker and let it rest while making the salad.
For the arugula salad:
1. Place the arugula in a medium salad bowl.
2. In a small bowl, mix together the olive oil, salt and the lemon juice.
3. Pour the dressing over the arugula and toss to evenly coat the leaves.
4. Taste and adjust the seasoning as needed. You can add more salt, lemon juice or olive oil according to your preference.
Serve the ribeye steak along with the garlic-rosemary butter and garnish with the arugula salad.
TIPS
If you prefer strong flavors, a compound butter made with blue cheese and chives will add a rich and deep flavor to the dish.
Comment