Salmon With Sage Butter Sauce and Fresh Greens
Apr 07,2023 | The Space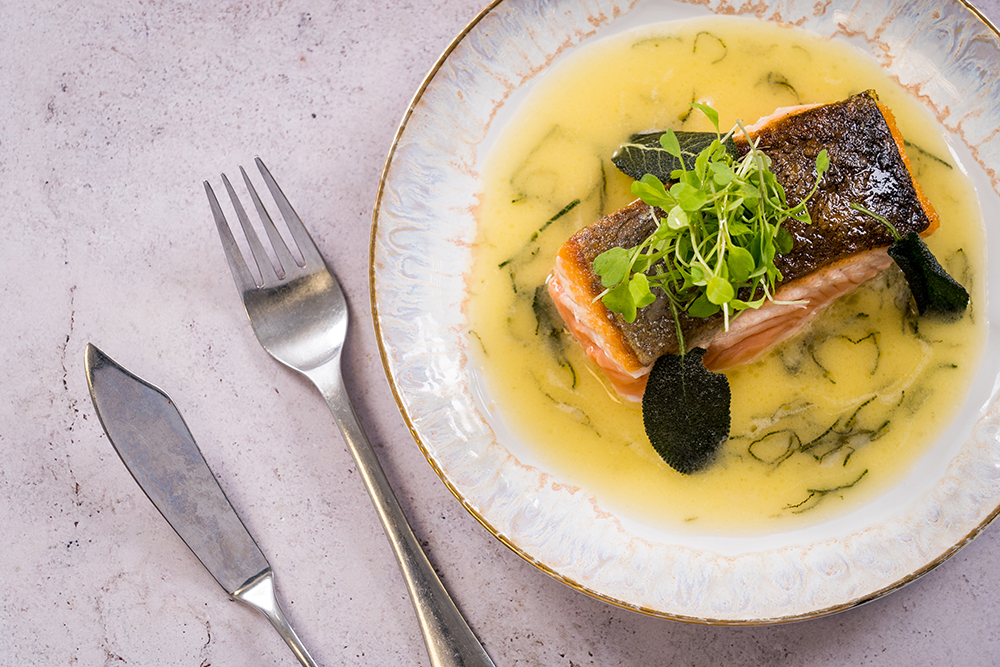 Explore a realm of culinary delight with our exquisite Salmon, Sage Butter Sauce & Fresh Greens! Sous vide perfection with Neovide – tender salmon, golden crust, & no shape loss. A feast for your eyes & taste buds!
Mode: NeoVide
Cooking temp: 49°C / 120.2°F
Cooking time: ≈ 25 mins
Difficulty: Easy
INGREDIENTS FOR 2 PORTIONS
For the salmon:
400 g Salmon fillet, bone off
A handful of sage
2 tbsp butter
1 tbsp Lemon juice
Salt to taste
Black pepper to taste
For the greens:
A handful of mixed greens
2 tbsp extra virgin olive oil
1 tbsp balsamic vinegar
Salt to taste
DIRECTIONS
For the salmon:
1. Season the salmon with salt and pepper.
2. Place the fillets into the Neovide cooker and insert the probe thermometer into the center of the thicker one. Set the Neovide cooker to 49ºC and press the start button. It will take about 25 minutes for the salmon to reach the internal temperature.
3. When the salmon is ready, remove it from the Neovide cooker and switch to mild sear function at 210ºC. Add half of the butter and sear the salmon skin-side down until the skin is crispy and golden brown. Remove from the Neovide cooker and set aside.
4. Add the rest of the butter and the sage finely chopped. Stir fry for 1 minute and pour the lemon juice. Season with salt and pepper.
For the greens:
1. Rinse under cold water and dry the mixed greens thoroughly.
2. Whisk together the olive oil, balsamic vinegar, and salt in a small bowl to make the dressing.
3. In a large salad bowl, combine the mixed greens with the dressing and toss to coat evenly.
Serve the salmon along with the sage butter sauce and garnish with mixed greens.
TIPS
Other fresh herbs like tarragon or dill can go well with salmon.
Comment