Cochinita Pibil Tacos With Pickled Onions
Mar 23,2023 | The Space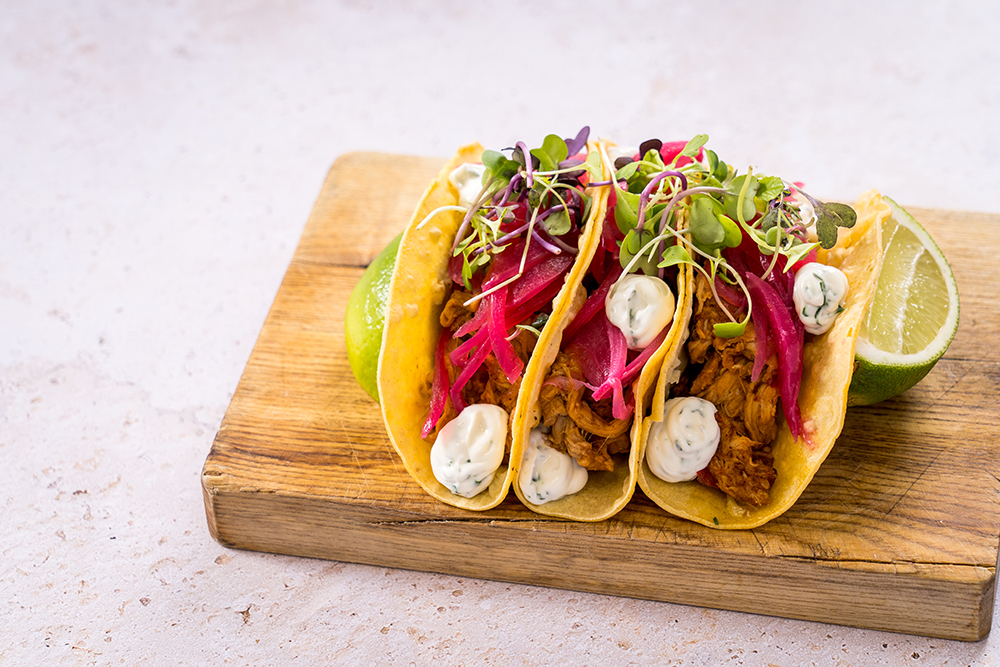 Cochinita Pibil is enjoyed throughout Mexico and around the world for its bold flavors and unique cooking method. Our Neovide takes this classic recipe to the next level by cooking the pork under vacuum for 24 hours, delivering perfectly cooked pork that is infused with the rich flavors of the marinade. And with the addition of pickled onions, this dish is a true celebration of Mexican cuisine that is sure to become a family favorite.
Mode: Manual
Cooking temp: 75°C/ 167°F
Cooking time: 24 hours
Difficulty: Challenging
INGREDIENTS FOR 2 PORTIONS
For the pork neck:
600 g Pork neck, boneless
5 tbsp Pibil seasoning mix (garlic, achiote, oregano, clove, cinnamon, black pepper, cumin, allspice)
3 tbsp white vinegar
150 g orange juice
2 tbsp pork fat
For the pickled onions:
½ red onion
4 tbsp lime juice
Salt to taste
For the tacos:
10 Corn tortillas
3 tbsp mayonnaise
2 tbsp cilantro, chopped
DIRECTIONS
For the pork neck:
1. In a food processor or blender, mix together the pibil seasoning, white vinegar, orange juice and, pork fat.
2. Add the pork neck to the marinade, making sure it is fully coated. Then, place it into the Neovide cooker and program the marinate function for 30 minutes.
3. Switch to water bath function and program at 75ºC for 24 hours.
4. When the pork is ready, remove it from the Neovide cooker and let it cool for a few minutes. Using two forks or your hands, shred the pork into small pieces.
5. If desired, stir in some of the sauce that remains in the Neovide chamber.
6. Keep warm.
For the pickled onions:
1. Peel and thinly slice the red onions.
2. In a medium bowl, mix together the lime juice and salt.
3. Add the sliced onions to the bowl and toss to coat.
4. Cover and let the onions marinate in the refrigerator for at least 1 hour.
5. Drain the excess liquid before serving.
For the tacos:
1. Mix the mayonnaise together with the chopped cilantro. Set aside.
2. Heat a skillet or griddle over medium-high heat. Place the tortillas in the skillet and heat for about 20-30 seconds on each side, or until warm and pliable.
Spread a small amount of mayonnaise on each tortilla. Add a generous amount of pulled pork on top of the mayonnaise. Top with pickled onions and fold the tortilla in half to form a taco. Repeat the process with the remaining tortillas and filling.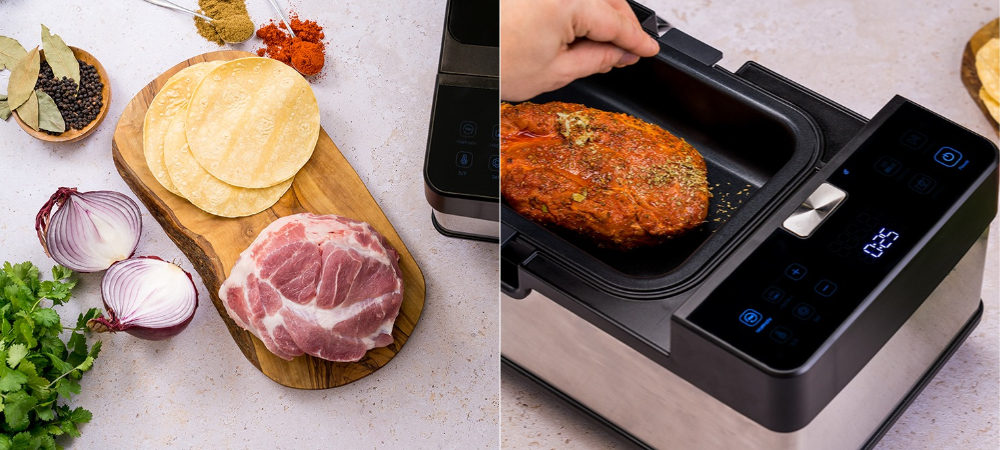 TIPS
Some other toppings can be used to go along these tacos, for example, guacamole, sour cream, shredded cheese, or pickled jalapeños.
Comment