Sweet and Sour Shrimp with Pilaf Rice
May 15,2023 | The Space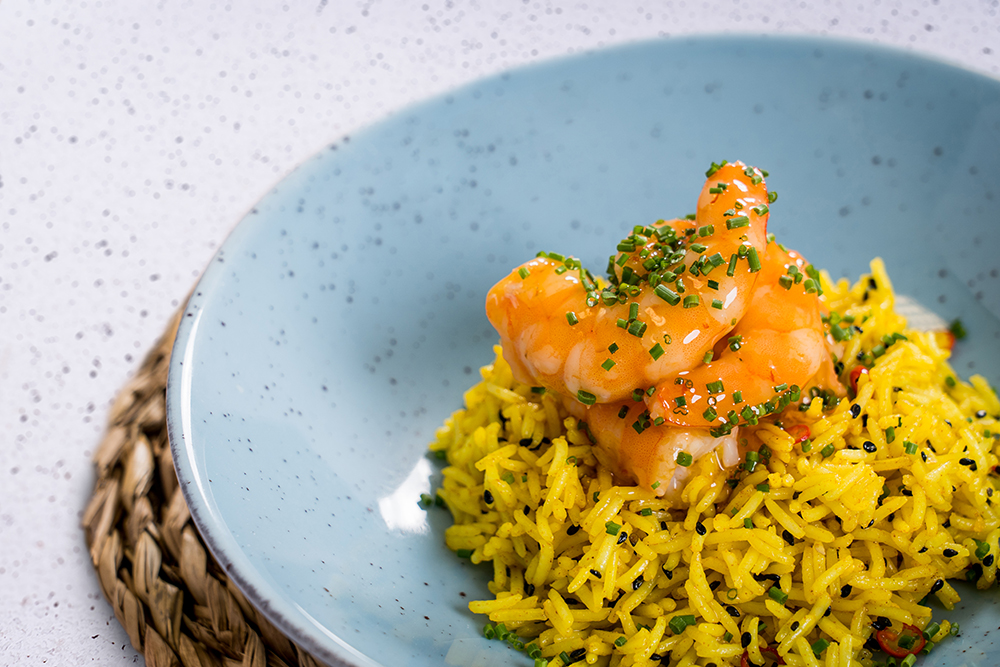 Sweet and Sour Shrimp with Pilaf Rice is a delicious and flavorful recipe, perfectly cooked using the Neovide sous vide cooker. The recipe features succulent shrimp cooked to perfection with a tangy and sweet glaze, served on a bed of fluffy pilaf rice.
| | | |
| --- | --- | --- |
| Mode: | NeoVide | Manual (Waterbath) |
| Cooking temp: | 52ºC (125.6ºF) | 70ºC ( 158ºF) |
| Cooking time: | ≈ 22 min | 10 min |
| Difficulty: | Moderate | |
INGREDIENTS FOR 2 PORTIONS
For the pilaf rice:
120 g long grain white rice
240 g chicken or vegetable stock
2 tbsp Olive oil
1 tsp turmeric powder
2 tbsp chives, chopped
1 tbsp black sesame seeds
1 Birdseye chili
Salt to taste
For the shrimps:
200 g shrimp, peeled
4 tbsp sweet and sour chili sauce
1 tbsp sesame oil
Salt to taste
Black pepper to taste
DIRECTIONS
For the pilaf rice:
1. Choose the mild sear option at 210ºC and add the olive oil to the Neovide cooker. Also, incorporate the turmeric powder and chopped chili. Stir gently and add the rice, keep stirring for 1 minute.
2. Add the stock and program the Neovide cooker at 95ºC for 35 minutes on water bath function.
3. Once the rice is done, mix together with the sesame seeds and chopped chives. Remove from the Neovide cooker and keep warm.
For the shrimps:
1. Season the shrimp with salt, black pepper, and sesame oil.
2. In a mixing bowl, toss the shrimp in the sweet and sour sauce and place them into the Neovide cooker.
3. Program the Neovide cooker to 70ºC for 10 minutes in water bath function or you can also use the Neovide function at 52ºC core temperature.
Serve the shrimp on top of the pilaf rice and sprinkle with some more sesame seeds.
TIPS:
Oyster sauce can also pair well with sauteed shrimp. Oyster sauce is a thick, dark sauce made from oysters, soy sauce, sugar, and other seasonings. It has a rich, savory, and slightly sweet flavor that can complement the delicate taste of shrimp.
Comment