Tenderloin Steak with Mushroom Sauce and Green Beans
Mar 07,2023 | The Space
Indulge in the rich and flavorful Tenderloin Steak with Mushroom Sauce and Green Beans, a dish that is sure to delight your taste buds. This recipe is specially created for our Neovide sous vide cooker, ensuring perfectly cooked steak every time. The mushroom sauce is creamy, aromatic and pairs perfectly with the earthy flavor of the green beans. This recipe is perfect for a fancy dinner party or a cozy date night at home. Follow the steps below to make this delicious and mouthwatering dish that is guaranteed to impress your guests!
Mode: NeoVide
Cooking temp: 55ºC / 131ºF
Cooking time: ≈ 90 min
Difficulty: Moderate
INGREDIENTS FOR 2 PORTIONS
For the tenderloin steak
400 g tenderloin steak (two 200 g steaks)
150 g green beans
2 tbsp Extra virgin olive oil
1 tbsp butter
Salt to taste
Black pepper to taste
For the mushroom sauce
250g Champignons
200 g Cream
100 g white wine
1 garlic clove, minced
Black pepper to taste
Salt to taste
DIRECTIONS
For the tenderloin steak
1. Season the tenderloin steaks with salt and pepper.
2. Place the steaks into the Neovide cooker and insert the probe thermometer into the center of one of them. Set the Neovide cooker to 55ºC and press the start button. It will take about 90 minutes for the steaks to reach the internal temperature.
3. Sauté the green beans for about 5-7 minutes with the butter, or until they are tender and slightly browned, stirring occasionally. Set aside
4. When the steaks are ready, remove them from the Neovide cooker and switch to mild sear function at 210ºC. Add the olive oil and sear them on both sides until golden brown. Remove from the Neovide cooker and let it rest while making the sauce.
For the mushroom sauce
1. Add the sliced mushrooms to the Neovide cooker using the mild sear option at 210ºC. Cook until they have released their liquid and are browned.
2. Pour in the white wine and bring to a simmer. Cook for 2-3 minutes, until the wine has reduced by half.
3. Stir in the heavy cream, salt, and pepper. Bring the mixture to a simmer and cook for 2-3 minutes, until the sauce has thickened.
4. Transfer to a food processor or blender and blend until smooth.
Plate the tenderloin steak along with the mushroom sauce and garnish with the sauteed green beans.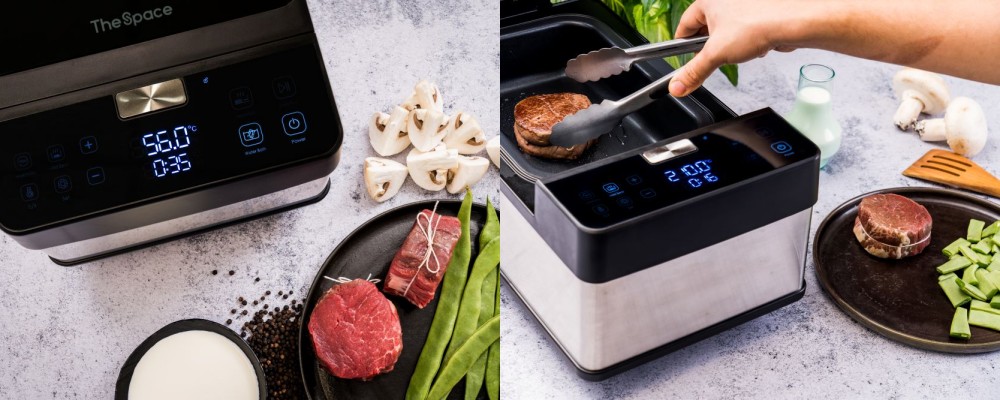 TIPS:
Chimichurri is a good option to go along with this steak. A fresh and flavorful sauce made with parsley, dried chili, garlic, and lemon juice.

Comment